Cornish Cutter Launched into Waters at Newham
Thursday 19th March, 2020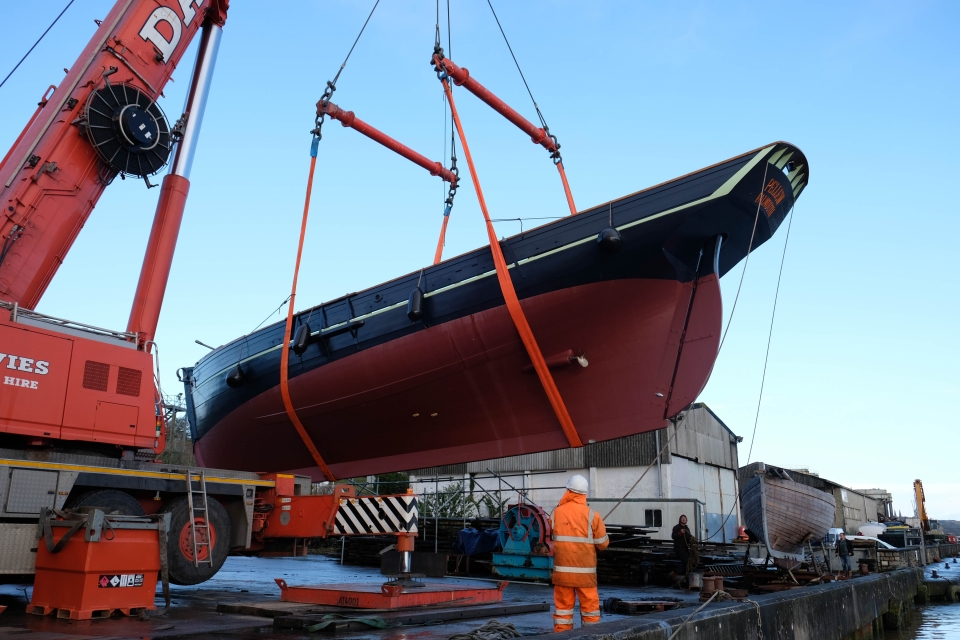 Despite howling winds and lashing hail storms, a huge crane successfully launched a new Cornish cutter into the waters at Newham this month.
Countless hours of dedication by a team of experienced shipwrights and apprentices has seen the Pellew take shape at the purpose built shipyard at Newham and the Port of Truro. Named in honour of local hero Edward Pellew, the vessel recreates one of the longest serving and best documented of the Cornish cutters, the Vincent, a vessel built in 1852 for the Vincent family in St Mawes.
Finding gaps in the wintry weather, brought by Storm Jorge, the team at the shipyard worked to hoist the cutter into the water.
Talking after the launch, the team said: "A great success against all the odds of Storm Jorge. She floats, she absolutely beautiful and she's going sailing this summer."
Thousands of people from around the world watched the spectacle online through a series of Facebook Live videos, with enthusiasts from as far away as New Zealand, Singapore, California and Maui celebrating the launch.
The aim for the Pellow is to train new apprentices in how to sail and maintain a cutter while also welcoming paying passengers for exciting chartered voyages on this unique vessel.
For more information, visit https://workingsail.co.uk/ or https://www.facebook.com/WorkingSail/