Business Support
Business Support to Help You
The Growth Hub
The Growth Hub work with local businesses, including self-employed people to find guidance and support to help them get back on track. The friendly team of locally based experts will work with you to navigate any current challenges. Then they do the leg work to find support that is right for you, right now.
The team can also book you in for a free business review, to talk in more detail about you and your business and what direction you want to go in. In a review you will discuss your business and personal goals and then they will point you in the right direction for help and support to get you to where you want to be.
The Skills Hub
The smartest way to develop your business is to grow your people, giving them the skills they need to help your business thrive. For whatever the new normal may look like for your business, new skills can help you overcome new challenges.
With a free Skills Review, the Skills Hub can help. We'll get to know your business and uncover the skills that your people need, with our independent, impartial and expert knowledge on hand to introduce you to the right training solution for your team.
We know that finding training or development opportunities can be a bit of a minefield, so let us do the heavy lifting for you.
From marketing to IT; health and safety to leadership training; apprenticeships to recruitment - whatever skills you need, develop your people with a free Skills Review from the Skills Hub.
Call 01209 708660 to speak to one of the team today, or GET IN TOUCH via our website.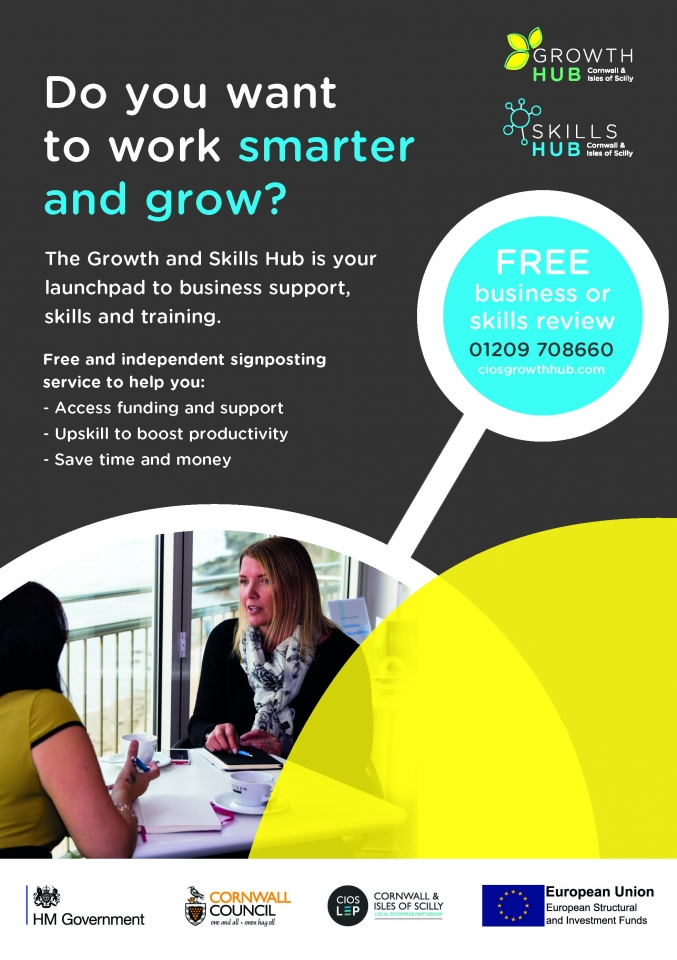 ---
Buy with Confidence - Trading Standards approval for local businesses:
Cornwall Council is keen to work with local businesses to help reputable businesses stand out from the crowd – the Buy with Confidence Scheme, part of a national initiative provides the public with a list of local businesses who have given their commitment to trading fairly, to complying with relevant legislation and to providing exceptional service. It's particularly appropriate for businesses in trade sectors including the motor trade, builders, plumbers and retailers.
If you meet the membership criteria, you will be able to use the distinctive logo to promote your business and will have clients referred to you by the Council when members of the public ask for recommended firms. To find out more go to www.buywithconfidence.gov.uk or telephone 0300 1234 212