Future Looks Bright for Commercial Cleaning Company
Monday 30th November, -0001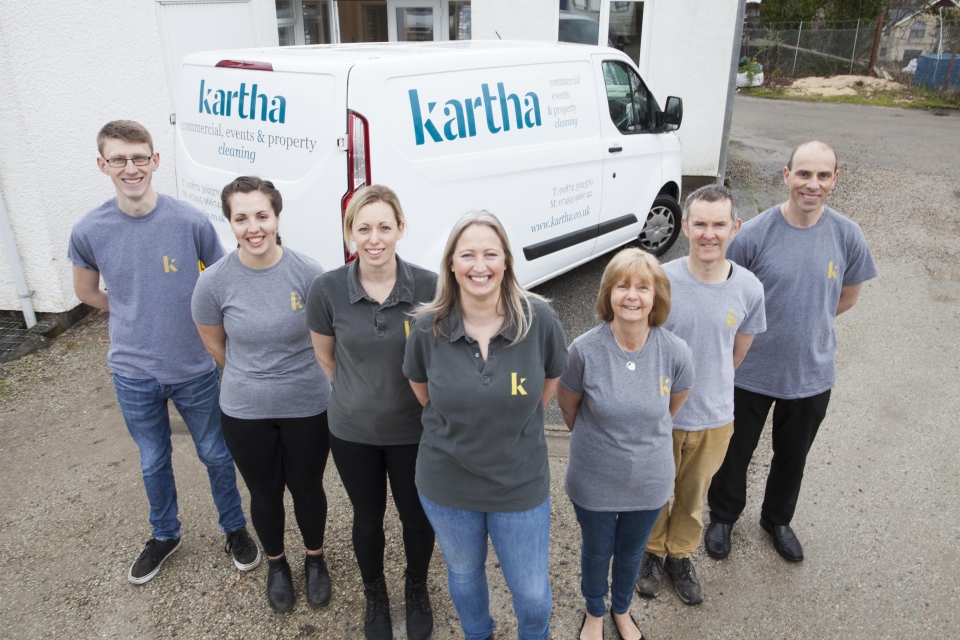 Commercial cleaning company Kartha is looking forward to a busy year in 2020, taking on a variety of new clients as the team establish themselves in their new premises in Newham & The Port of Truro. It hasn't been an easy ride, following a disastrous office fire back in March, 2019 just a few weeks after moving in, which rendered the offices unusable. With a large proportion of their contents destroyed, the Kartha team were left to work remotely for six months, with minimal equipment, in order to continue business as usual. Thankfully, after renovation and a lot of hard work, the team has now moved back to Newham and look forward to an exciting year to come.
Kartha's Director, Tanya Blackman, said: "It was a tough time. Our landlords, Bill and Julie Osborne, were fantastic in getting everything fixed and redecorated but the fire has certainly set back our expansion plans! Fortunately our clients were understanding and many of our lovely business contacts helped us out, particularly the amazing John Gotts at LaserMaster, for which we are so grateful - so we managed to carry on as normal as far as our clients were concerned we hope."
Despite this setback, Kartha is now back at Newham and excited to expand, particularly looking to grow its portfolio of regular workplace cleans around Truro.
"We have some capacity for new regular commercial cleaning clients and have started to work with other businesses in Newham such as Bishop Fleming and RouteNote," said Tanya. "We will be introducing ourselves to businesses in Newham and Truro over the next few weeks and look forward to strengthening our links with the local community. We care deeply about the standard of our cleaning, and work hard to deliver high quality, bespoke cleaning services to our clients, and I'm confident that our clients can vouch for that."
Alongside their commercial cleaning business, the firm's sister company, Kartha Recycling, had a busy summer diary in 2019, working at events and festivals throughout Cornwall including the Royal Cornwall Show, for Sharp's Brewery; Falmouth Week and Looe Live, for SW Bars and Events; and the prestigious Falmouth Oyster Festival; consulting on and delivering waste management services, ensuring that sites were kept spotless during and after events.
"It was a particularly positive season for us as we introduced our brand new recycling unit at the events we covered," Tanya added, explaining that this is a portable recycling-on-the-go solution, which makes it easy for the public to recycle wherever they are. Correctly sorting waste at the point of disposal leaves recyclable streams uncontaminated, maximising the volume of waste that will be recycled.
Since using their bin system, Kartha Recycling has increased recycling rates at all of its regular festivals, with one seeing its rate changing from 0% to a commendable 52% within a year.
"We know that recycling isn't the complete answer to the ever-growing problem of waste management, but it is imperative that events and festivals offer the option to recycle, to reduce their environmental impact," said Tanya.
She added that Kartha currently has three individual offices with parking available for another friendly small/medium business to share with the company at Newham. For more information, please visit Kartha's Facebook page, @karthacleans, or contact Tanya Blackman by emailing office@kartha.co.uk.