A range of benefits makes city's riverside hub of enterprise attractive to companies
Monday 21st October, 2019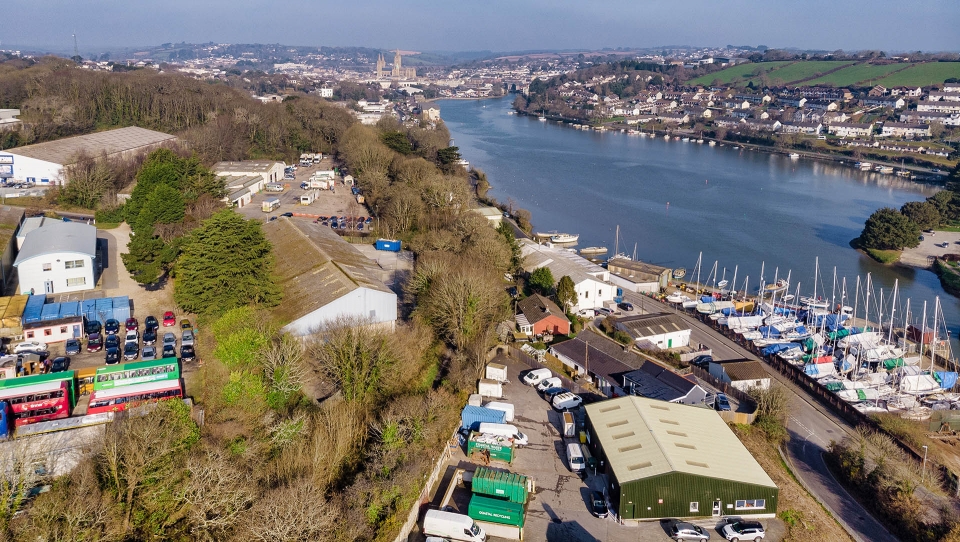 In the heart of Cornwall, Newham & The Port of Truro boasts more than 100 businesses employing around 1,000 people. And the riverside district regularly welcomes new firms to Newham, all keen to enjoy a range of benefits, from its central location to parking facilities and a strong business network.
As a Business Improvement District (BID), Newham is also a hub of enterprise with firms working together to improve and enhance the area for its companies and customers.
Voted in for a second term, the BID, which is managed by a Board of Directors and a committee of business people from within the district, has a range of projects to deliver through its five year business plan.
Focusing on four key themes, these plans include: enhancing the environment and creating a business district that is an accessible and attractive place to do business; safety and security by maintaining CCTV surveillance and introducing security patrols; place and business promotion to enhance the profile of Newham and its businesses to drive footfall and sales through a PR and Marketing campaign; creating connections by, for example, lobbying on issues that matter to businesses.
During its first term, Newham BID successfully delivered schemes such as increased CCTV coverage, new eye-catching signage, targeted marketing and awareness campaigns and road and green space maintenance.
Mel Richardson, Newham & The Port of Truro BID Manager, said: "We are pleased with the range of benefits we have already brought in to help support Newham businesses and customers. There are some really exciting plans coming up which will continue our campaign to showcase the many benefits of working at and visiting this thriving business quarter."
Newham-based firms are also doing their bit to support other up and coming companies. Kernow House is home to international music distribution company Routenote, which uses this site to not only work with independent artists and labels to share their music, but also to encourage the growth of other small firms. 
Launching Our Distrikt at Kernow House on Gas Hill, RouteNote provides a selection of workspaces available to rent for small businesses, start-ups and entrepreneurs on a flexible monthly or daily basis with parking, internet access and use of facilities.
"Offering a flexible, affordable and spacious work environment in close proximity to the centre of Truro, Our Distrikt looks to provide opportunities for start-ups, freelancers and entrepreneurs that up until now have not been seen within Cornwall," said Jamie Chown, Routenote Facilities Manager.
"We are in the lucky position that we can help others and see if we can help them to grow something exciting."
Trial Balance Consulting moved to Newham's Meridian House in September 2015 and now lets part of the building to other businesses, including start-ups.
"We've a wide range of diverse businesses operating from Meridian House, from physiotherapists to financial advisors and event management firms," said Alex Callister, Managing Director of Trial Balance Consulting. "Most of our tenants are local, single-site businesses with a very local client base." 
Newham & Port of Truro is not only a great place to shop but it's also a great location to set up a business. Here are the top ten reasons why you should look to relocate your firm to Truro's waterside business district:
•
Fantastic accessibility for your employees and your customers - located off the A39 and only a few minutes' walk from Truro City Centre.
•
Riverside location with wonderful walking and cycling routes – Newham & Port of Truro is on the national cycle network.
•
A strong community – businesses work collaboratively to improve their environment, market their services and provide a safe and attractive place to trade.
•
State of the art broadband connectivity – Newham & Port of Truro enjoy all the benefits of superfast fibre broadband – with fibre to the premises (FTTP) connections.
•
High security – Newham & Port of Truro is covered by regular security patrols as well as CCTV cameras including vehicle recognition so any vehicles entering the area have their number plates recorded to help deter and detect crime.
•
Pride in the environment – through the BID, a company is employed to manage and maintain the communal landscaped areas in pristine condition. Any incidents of litter, fly tipping or graffiti are immediately reported to the Council by the BID Manager. 
•
Communication – regular newsletters keep businesses up to date with issues and opportunities.
•
Funded support – Funding and grants are available to help businesses to secure the support they need.
•
Vision for the future – There are ongoing improvements to make the area even better. Initiatives include resurfacing of the road at no cost to businesses and new landscaping. 
•
Wellbeing – Truro was crowned as one of the happiest place to live in the UK in a national happiness index! 
•
Lobbying - The BID can also lobby on behalf of businesses, to tackle issues that matter to them