A Cornish commercial cleaning company, Kartha Ltd, has relocated to Newham
Thursday 9th May, 2019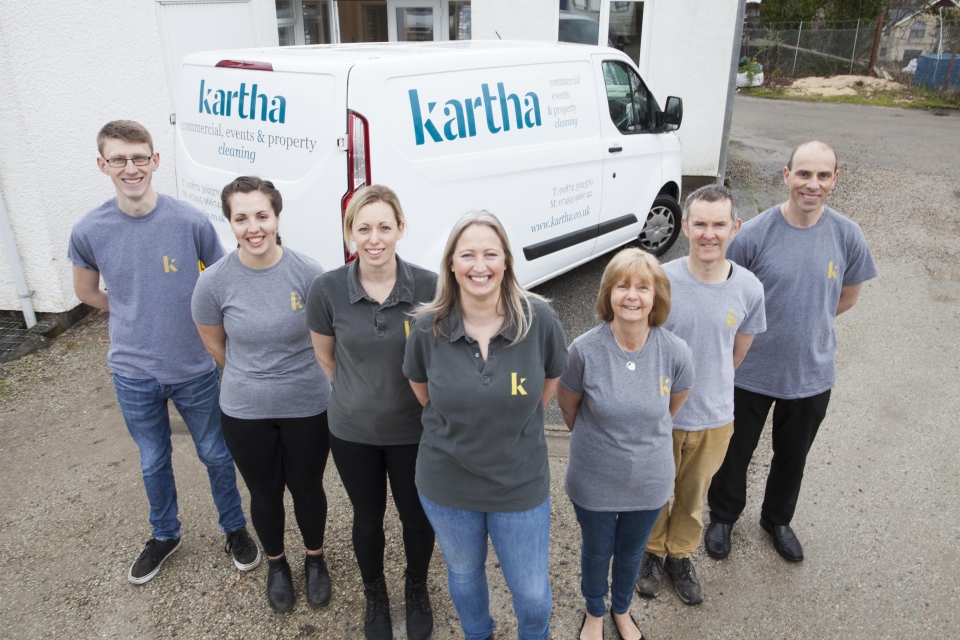 A Cornish commercial cleaning company is looking forward to a sparkling future after moving to Newham & The Port of Truro.
Kartha Ltd relocated to the riverside business district at the heart of Cornwall last month and is already looking forward to using the new hub to expand its services.
Meaning 'to clean' in Cornish, Kartha is the brainchild of owner and director Tanya Blackman, who said she was excited to make the move to Newham.
"We chose Newham because of its central location, we think it is a great position for the business," she said.
"We can't wait to be part of the community of local and national companies based here and to use our new office as the base for our continued growth."
Tanya began the business in 2013, as Girl Friday, offering regular domestic cleaning, but she soon realised that there was a real need for professional deep cleaning services in the commercial sector.
With the move from private to commercial, the business name also changed from Girl Friday to Kartha. And with the move to commercial cleaning, came a host of regular clients all keen to use the services of Tanya and her team. Among them are Royal Cornwall Museum, The Cornish Foodbox Company, The Old Grammar School, Workbox Truro, Number 8 hairdressing salon and Humberts Estate Agents.
"We have worked hard to build up our client list and we are very proud to clean for them, they are all fantastic companies," said Tanya, who trained in 5* hotels and resorts across the world before moving home to Cornwall and passing her knowledge and enthusiasm on to her team. 
"Along with build cleans for developers we still work with private clients all over Cornwall on full house deep cleans and offer a 'market ready' service for vendors wanting to spruce up properties ready for sale."
Kartha also provides larger scale waste management for events, working to keep the cobbles of Porthleven clean during the town's annual food festival. Tanya and her staff are always keen to be as green as possible, recycling 55% of all rubbish, compared to an industry benchmark of 32%.
Tanya added that the team were also set to work at this year's St Ives Food and Drink Festival as well as Porthleven and Looe, and they are also in talks to bring their unique recycling system to other festivals around Cornwall.
And the team has just completed a whirlwind few days as part of TV's DIY SOS crew, helping to transform a Carbis Bay house and the lives of those calling it home.
"Everyone was lovely, it was a great atmosphere and a fantastic project to be a part of," said Tanya.
For more information about Kartha, visit www.kartha.co.uk or call 01872 302370