ACCA Success for RRL's Rising Star
Thursday 3rd January, 2019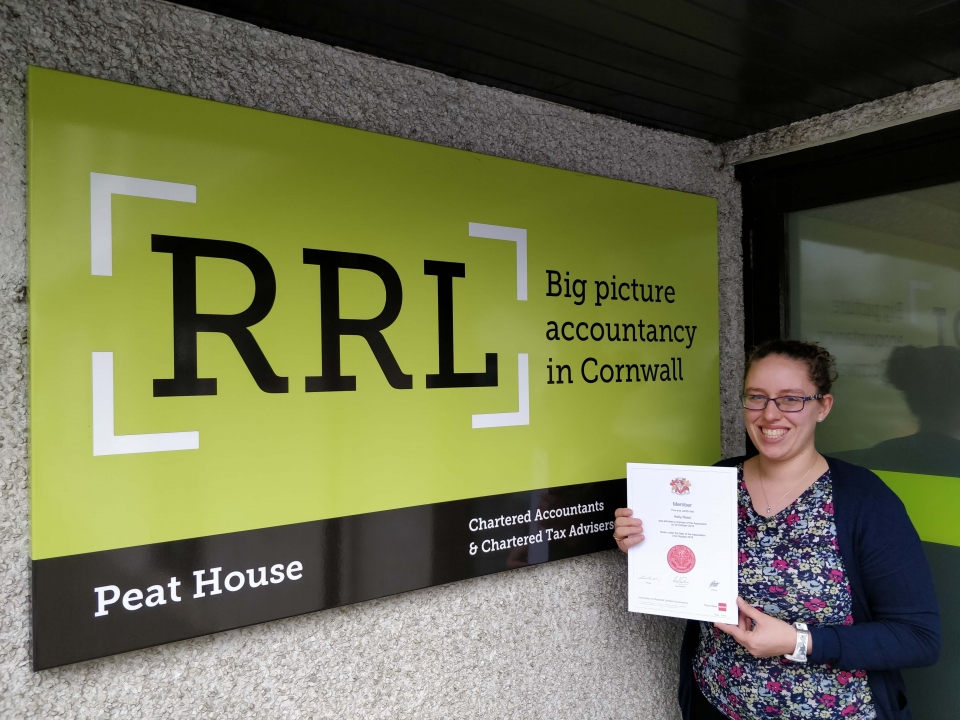 RRL, a leading independent firm of Chartered Accountants and Chartered Tax Advisers based in Cornwall, is celebrating the success of one of its rising young stars, Kelly Reed, who has completed her ACCA training and qualified as a Chartered Certified Accountant.
Kelly joined the firm as an apprentice, first completing her accounting technician (AAT) training before moving onto the more advanced ACCA training, which she has recently completed.
As a firm, RRL is committed to the training and development of its employees and was named SME Employer of the Year at the 2018 Cornwall Apprenticeship Awards in recognition of the efforts made to support staff development.
Kelly is delighted to receive the qualifications, saying: "Studying for these exams has been a challenge, but it is one that I have enjoyed thanks to the help and support of my colleagues at RRL. I'm looking forward to continuing my professional development and progressing with the firm."
Mark Williams, Partner at RRL, was delighted for Kelly upon hearing the news that she had completed her training, saying: "This is excellent news for Kelly, and everyone at the firm is really pleased for her. It is fantastic to see everything that Kelly has achieved with the firm.
"We have put a lot into our apprenticeship programme and our focus on training, and it is great to see this paying off, with Kelly the latest to obtain her qualifications with the firm."
For further information on RRL, please visit their website https://www.rrlcornwall.co.uk/