RRL Bring On Board New Apprentices
Monday 1st October, 2018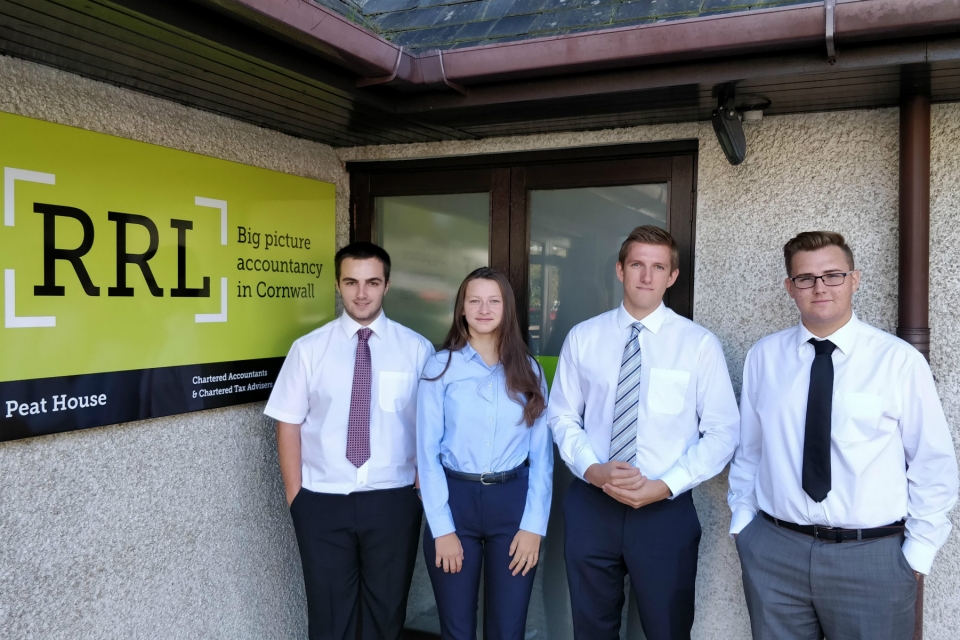 RRL, a leading independent firm of Chartered Accountants and Chartered Tax Advisers based in Cornwall, has welcomed four new apprentices to the team, continuing the firm's recent growth. Three of the new apprentices are AAT students and one a Chartered student, with the four new recruits set to work on Accounts, Tax Returns and Audits for the firm's clients. 
The addition of four new apprentices is the latest growth for the Cornish firm, who earlier this summer expanded their Probate Team with the recruitment of Solicitor Nick Latimir, in addition to further strengthening their business support team.
As part of RRL's highly regarded apprenticeship programme, the apprentices will be based in the firm's Truro office, while also spending one day a week studying at college. RRL was named as one of Truro College's Outstanding Apprenticeship Employers earlier this year and have also recently been shortlisted as finalists in the Cornwall Apprenticeship Awards for the second year running.
Partner Mark Williams said, "I am delighted to welcome Sam, Daniel, Dan and Jade to the team. The new apprentices have already begun to settle in well, and they look set to flourish here at RRL. They are the latest to join our highly successful apprenticeship programme, which plays an important role as we continue to strive to develop our staff.
"2018 has been a big year for RRL and one of significant growth for the firm. We started the year by unveiling our new brand and have since opened a new office in Penzance, launched our new website and expanded the firm's probate offering, showing the firm's ambition for the future. With the introduction of Making Tax Digital in April 2019 and some exciting projects planned for the firm next year, I fully expect RRL to keep forging ahead."
For further information on RRL, please visit their website http://www.rrlcornwall.co.uk/