Metal Art & Fabrications combines skills, passion and creativity to produce stunning artistic fabrications
Tuesday 3rd July, 2018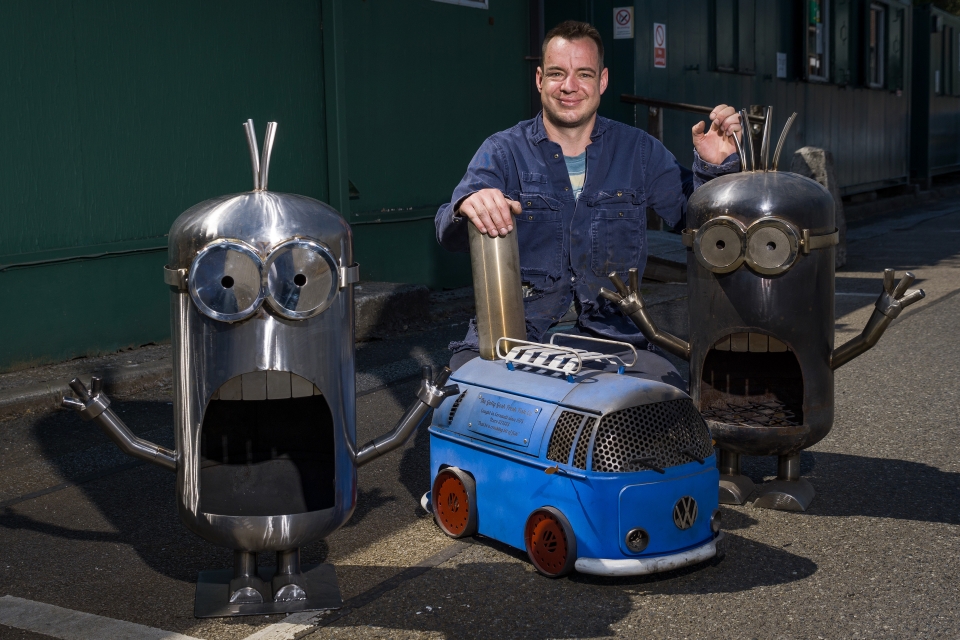 A sculpture artist whose metal creations have been sold throughout the world has expanded his business with the opening of his new studio in Truro.
Gavin Hadley launched Metal Art & Fabrications in 2015 and his eye catching wood burners and BBQs – modelled on movie favourites the Minions, as well as Daleks and VW Campervans – have won him countless fans across the UK and as far afield as Australia.
And moving his business to Newham, Truro's riverside business district, has helped him to boost his output and create even more metal artwork.
"I have had orders from Ireland, Canada, Australia and Japan," he said. "I've also had around 20 orders for my work in the United States alone; mostly for the Minions.
"I would never have thought that I would be making these creations for a day job and sharing them with people all over the world. It is a fantastic feeling."
The 38 year old has been perfecting his welding and fabrication skills since he was 16 years old, working on a number of projects including building the Royal Navy's new aircraft carriers in Portsmouth.
But it was when he was visiting his partner in Cornwall that he realised this was the place he wanted to move – and do business.
Setting up home in Cornwall in 2015, Gavin carried on with the welding and fabrication trade until seeing a picture of a metal wood burner shaped like a Minion – one of the loveable characters from the Despicable Me movies. Realising that he could use his practical and creative skills to make his own Minion, Gavin got to work and was so pleased with the results that he decided to focus on the artistic welding full time.
"I just wanted to do my own thing and be my own boss and create what I wanted," he said. "I was suffering from depression and anxiety at the time and I believe this was a big part of that – not being able to fulfil my own dreams and ambitions. But starting my own company has helped me to do that."
Launching Metal Art & Fabrications that same year, Gavin began making more Minion wood burners, before trying his hand at BBQ versions. And when a friend asked him to recreate their beloved VW Golf in miniature metal form, Gavin was able to expand his repertoire. He now also makes custom VW Campervan wood burners and BBQs and has even been asked to weld a life size Dalek and a Land Rover.
He has also been commissioned for one off sculptures and artworks including a beautiful tree placed in the grounds of the Royal Cornwall Hospital for Ella's Memory, a charity for the families of stillborn babies. The tree includes delicate leaves engraved with messages. Gavin is currently working on a similar sculpture for the Berkshire SANDS (Still Birth and Neonatal Society) HQ.
And recently, Gavin has been approached to make a top end, stainless steel BBQ, worth a whopping £15,000.
"The bespoke Argentinian grill-style BBQ will have everything for the very best in outdoor cooking," said Gavin. "I want to look at making the biggest and best quality BBQs in the world, which can be used outside and in restaurants."
 Although he began his company in a shed in his Truro garden, Gavin has recently begun renting a unit at Newham, allowing him to expand his business while boosting output and sales.
"Over the past year, business has really grown with people from all over the world getting in touch asking me to make them their unique wood burners and BBQs," said Gavin.
"I am so excited to bring my business to Newham and keep working hard to get my creations out there."