Newham based business TimbaBuild wins top industry award
Tuesday 16th November, 2021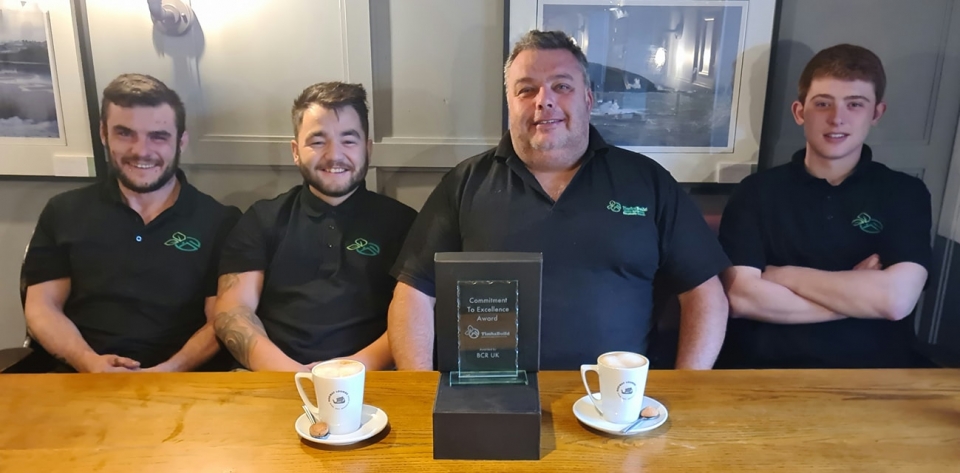 A specialist building firm has been handed a top industry award. Managing director Paul Harvey and his team at TimbaBuild Structures have been recognised for a series of successful local and national projects. The family-run business, based in Newham and the Port of Truro, received Building and Construction Review's Commitment to Excellence award last month.
Managing director Paul Harvey said getting such prestigious recognition had come at just the right time. "I'm really, really pleased," said Paul, who has built the business up over 30 years, originally under the name P Harvey Carpentry before changing the firm's name to TimbaBuild Structures in 2020. "We've been through a rebrand and all worked really hard, so it's great to have been recognised like this."
Paul treated his team to a slap-up breakfast in the Norway Inn, Perranarworthal, as a thank you for their efforts to help TimbaBuild Structures become a leading UK specialist in carpentry and construction. The firm has been involved in several projects across a range of sectors, including a commercial build for Waitrose in Swindon and a five-week roof construction at a school in Tiverton. But as well as these high-profile builds, TimbaBuild Structures also offers help with smaller-scale briefs, such as decking, pools, bars, gazebos and lodges.
"At the weekend, I helped to repair a customer's back gate for him," said Paul, adding that he enjoys the variety of his line of work. "My job is more like a hobby to me. They say find a job you enjoy and you'll never have to work a day in your life and that's true for me. I love what I do, always have done."
TimbaBuild Structures moved to Newham in February after experiencing an increase in trade as more people look to improve their homes and gardens. Paul and the team say their Newham workshop is an ideal location for them and their customers, who can come and watch the traditional production processes used to make their project come to life. "It's great being in Newham," said Paul. "We've got everything we need close by and we get on really well with our neighbours. Everyone is really friendly."
The firm now plans to build on its success and is looking to concentrate more on garden rooms and offices, along with bespoke, high-end furniture, as well as some unique building projects. "I've got a great team and great clients that we work with," said Paul, adding that he's still keen to get involved in all aspects of the job. "I might be nearly 50 but I'm still there, rolling around in the mud on site. I can't see that changing any time soon."
See newhamtruro.co.uk/business/121/timbabuild-structures-limited