MP Learns of Exciting Plans for Newham and the Port of Truro
Tuesday 20th July, 2021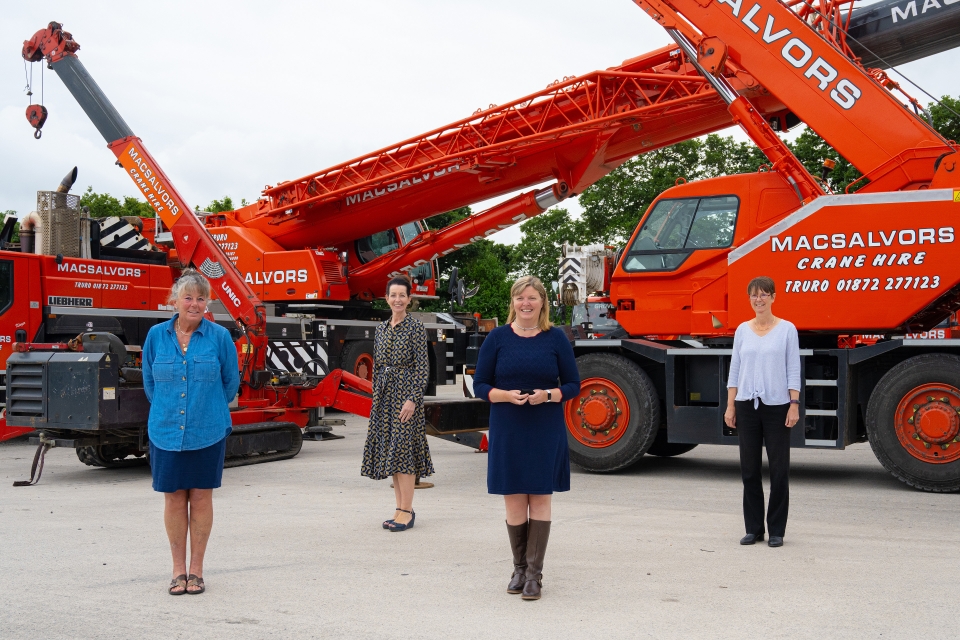 A strong business community with exciting plans for the future was on display during a visit by Truro and Falmouth MP Cherilyn Mackrory to Newham and the Port of Truro.
The Truro MP took a tour around the riverside business district, meeting with staff at a range of companies and hearing how the firms have fared during the past 18 months.  
The district is an attractive location for expanding firms, with more than a dozen choosing to move their operations to Newham throughout the last year. 
Carole Theobald, chair of Newham and the Port of Truro Business Improvement District (BID), said: "We were thrilled to show Cherilyn around Newham and talk to her about just what makes this area such a thriving place to do business.  
"The past year has been a difficult one for us all but it was great to be able to explain that there have been some success stories here with new and expanding businesses choosing to move to Newham. With less than 5% vacant occupancy, Newham has shown that it is a great place to do business."  
The MPs visit included a look around Skinner's Brewery, networking with Cornish Mutual Managing Director Peter Beaumont and tour of Macsalvors Plant Hire with Karen MacQuarrie. Cherilyn also met with business owners at Riverside House, home to Russell Dodge and property consultancy BLS Estates, Ian Stringer of Stringer's Gym and Align Chiropractic, which moved to Newham in April and is run by Sarah Murray.   
Commenting, Cherilyn said: "It was so great to have a tour of Newham and meet such a diverse range of innovative businesses. Newham really is a hive of activity – home to some fantastic, successful Cornish companies. The last 16 months have been tough on local businesses but morale is high and businesses are feeling positive as we ease out of the coronavirus restrictions. 
"We are starting an exciting chapter in Truro with the Towns Deal funding, and I am keen that Newham benefits from this and gets the investment it needs to continue to grow and prosper."  
As part of her visit, Cherilyn also spoke with Newham BID members about the potential for development of Newham as part of the newly announced Town Deal, a pot of Government cash which will be used to celebrate Truro's unique character, improve transport and boost regeneration.  
Within the Newham area, there are plans to use a portion of the £25million of Town Deal funding to create a cycling and walking network with a rising bridge between the business district and Boscawen. The cash would also include further investment in pedestrian and cycle paths along the riverside at Newham. 
Carole, who is also Chair of the Truro Town Board, added: "This funding will have a major impact on Newham and the wider Truro area, encouraging more people to walk and cycle through the district. This supports the city's green agenda while also introducing the diverse range of businesses we have based here. We have been working alongside Cherilyn to push for this funding and will continue to plan for this vital investment which will have a lasting impact for Newham, Truro and the county as a whole." 
Watch the video interview with Carole https://youtu.be/d6AVlCLiQ9c