Covid-secure door opener invented by Newham sculpture artist
Tuesday 29th September, 2020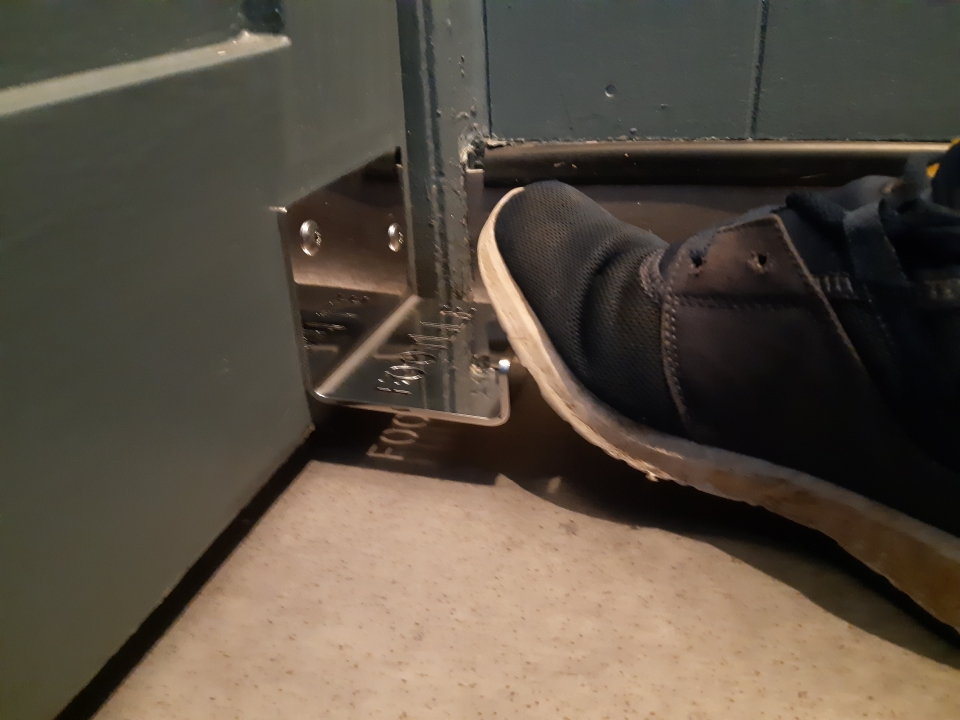 A Newham-based sculpture artist has been inspired by the Covid-19 pandemic to invent a new foot-operated door opener which could be used by restaurants, pubs, cafés, surgeries and many more places to boost hygiene measures.
The Foottle enables a non-latched pull or push door to be opened by pressing your foot down onto a metal unit attached to the door and pulling the door with your foot, meaning there is no need to touch a door handle.
It is the invention of Gavin Hadley of Metal Art & Fabrications, who relocated to a studio in Truro's riverside business district in Newham in 2016 to enable him to expand his business.
Formerly a welder and fabricator working in a wide variety of sectors including fitting out race cars and building Royal Navy aircraft carriers, Gavin started the company in 2015 when he moved to Cornwall.
Eye-catching and colourful designs including Minion characters and themed VW camper van wood burners have been commissioned from across the UK as well as Europe, America and Australia, alongside custom-designed artworks and sculptures, bespoke BBQs and Gavin's flagship range of outdoor stainless steel grills.
Although he was able to continue working during the Coronavirus lockdown, Gavin's business saw a drop in orders, and the impact of the lockdown led him to diversify into designing a new product inspired by the increased hygiene practices being encouraged.
Gavin said: "Turnover went down to about 10% of what it was last year, and though I've had a lot of help from the Growth Hub, small business rate relief and a self-employment grant, commissions have definitely quietened.
"I came up with the idea for the Foottle as I was coming out of a supermarket bathroom. It just seemed wrong to me that you wash your hands and then have to open one or sometimes even two doors by hand - it's the same in pubs and restaurants, and you don't know if those door handles are clean or not.
"While the Footlle was certainly inspired by Covid-19, it is also a great device to help improve general hand hygiene in everyday life too."
The Foottle is made from heavy duty 3mm thick high grade stainless steel and manufactured by a production company in Saltash, before being hand-finished by Gavin, packaged and delivered with a full fitting kit and instructions, as well as information stickers for venues to put up.
There is a serrated edge to enable a good grip, so the door can be pulled open by foot after pushing down on the Footlle, as well as pushed open.
After producing an initial 10 units which were trialed in a cafe and bar in Truro to great success, Gavin ordered a further 50 units and has since begun marketing the Footlle, with potential interest from as far as Dubai already.
He added: "The owner of the first venue in Truro to try them thought it was fantastic, all the staff had positive comments, and interest is really starting to build.  I'm still taking orders and focusing on my flagship outdoor grill range, as well as custom pieces, mainly in stainless steel."
Footlle units are on sale online for £22. Find out more at metalartandfabrications.co.uk/footlle/